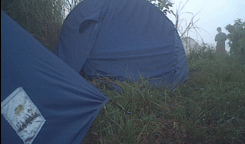 Geostride is now Sponsored by Kamaru!



Team Geostride has been negotiating with the Kamaru Outdoor Gear Co. of Cainta, Rizal to provide the team with equipment and travel support for all of the team's activities. Geostride will be providing Kamaru with field testing, assessment, and marketing help through its many outdoor projects. The team has already agreed to compete in adventure races for the brand and will also be bringing Kamaru to climbs around the country starting this summer. The team is currently planning a climb to Mt. Tabayoc 2842 meters (9,332 feet) in Benguet, Northern Luzon.

Mt. Apo Reopening Scheduled Cotabato City, Philippines



Mt. Apo in Mindanao, the Philippines highest peak at 2954 meters (9,689 feet asl), is scheduled to be reopened to climbers summer of 2004. Mt. Apo has been closed to all traffic since 2000 due to the widespread damage to its trails and slopes by avid mountaineers, eager to reach the country's highest point. Local government officials of Kidapawan City as well as officials of PAMB are asking climbers to respect climbing guidelines and help preserve the area surrounding Mt. Apo.

Buena Vista Adventure Race Tagaytay City, Cavite, Philippines



(March 6, 2004) A relatively short but challenging adventure race that will take 3-member teams through the forests, paved roads, trails, gullies and hills in and around the Buena Vista Nature Park. Adventure racers will apply various skills in the specified race course and solve mystery games to finish the race in the shortest possible time. This race is open to both experienced and beginners. Teams can choose from two versions of the race: The long version (Open Category) will take 5 to 7 hours to complete and will cover about 50 kms while the short version (Junior/Beginner, Celebrity/Media, Executive/Master/Corporate Category) will take about 3 hours to complete.
home
© 2003 Team Geostride Adventure.